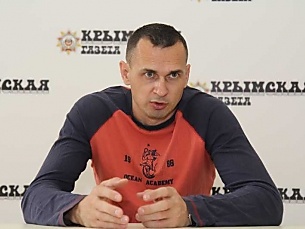 17.05.2014 Statement from Odessa Film Festival on kidnapped film director Oleg Sentov from Simferopol
Award-wining film director and Euromaidan activist Oleg Sentsov was kidnapped in his hometown Simferopol (Crimea) by the Federal Security Service of the Russian Federation on 11 May 2014. It was reported by Ukrainian journalist Ekaterina Sergatskova. According to her Facebook post, Sentsov contacted her at 4 am on Sunday morning writing that he had been detained. Since then his phone has been out of reach.
Attempts to find what happened with the filmmaker by calling the FSB department in Simferopol were useless. "They neither confirmed nor denied his arrest, and said that any information can only be provided to close relatives" – stated the National Filmmakers Union of Ukraine on its official website.
On the 15th of May 2014 the sources informed that Oleg Sentsov was accused of the organization of the terrorist attack and would be transported to Moscow in two days.

National Filmmakers Union of Ukraine (NFUU) announced: "We think he may have crossed someone. He really was a member of Automaidan, but terrorist attack is unbelievable". NFUU addressed the Russian secret service with the appeal trying to prove the innocence of a director.
The Ministry of Culture of Ukraine has expressed its concern and
published a letter of protest against the actions of FSB towards Ukrainians as well as sent it to a number of international human rights organizations.
Oleg Sentsov refused to testify and doesn't admit his guilt.  He will be defended by a famous lawyer Dmitry Dinze, who worked on the case of Pussy Riot and Bolotnaya Prisoners. "I have spoken directly with the investigator. He said that Oleg was in a temporary detention centre of the FSB in Crimea. In a couple of days he will be moved to "Lefortovo" detention facility – the lawyer told. He also added, that according to some reports two armed young men were detained in the Crimea and they testified against Sentsov.
Ukrainian filmmakers community believes that the detention of Sentsov is part of the campaign organized in the Crimea against those, who disagree with Russian policy. About 20 people have already been detained. Oleg's friends and colleagues as well as public figures do their best to help the filmmaker. 
Moreover, starting April 25 Ukrainian theatre director Paul Yurov and curator Denis Grischuk have been reported missing in Slovyansk.  Ukrainian, Russian and European artists repeatedly addressed the separatists with the demand to release them, but in vain.
Information:
Oleg Sentsov is the author of the full-length movie "Gamer", which was distinguished by the range of juries of international film festivals, in particular Odessa Film Festival and Russian Film Festival «Spirit of Fire» in Khanty-Mansiysk. The film took part in the prestigious festival of auteur cinema – Rotterdam International Film Festival, in competitive program ICF GoEast held in the German city of Wiesbaden, and was exhibited at the Kiev International Film Festival "Molodist". "Gamer" was also presented at the Carnegie Mellow University International Film Festival. His next full-length feature project "Rhino" won the pitching contest at the 3rd Odessa Film Festival and European pitching within Sofia Meetings at the Sofia Film Festival and participated in Connecting Cottbus.