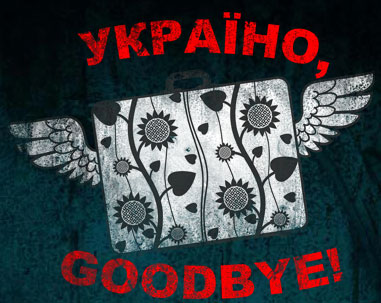 Some impressions from the screening could be found here (in ukrainian).
— please find ukrainian version of the invitation here —
Sehr geehrte Damen und Herren,
wir laden Sie und Euch herzlich zur nächsten Filmvorführung im Rahmen des Ukrainischen Kinoklubs in Berlin ein.
Am 22. August zeigen wir in Anwesenheit des Regisseuren den Almanach "Ukraine, goodbye!" (2012, englische UT) – sechs ukrainische Kurzfilme von jungen ukrainischen Filmemachern, die sich auf eine kritische Art mit der gesellschaftlichen Realität in der Ukraine auseinandersetzen.
Adresse und Zeit: 22.08.2013, 19 Uhr.
Panda Theater im kleinen Hof der Kulturbrauerei, Knaackstr. 97, 10435 Berlin (U-Bahn Eberswalder Str. Nähe zur U-Bahn Schönhauser Allee).
Der Eintritt ist frei, es besteht die Möglichkeit an einer Bar Getränke zu erwerben.
"Ukraine, goodbye!" gehört zum Genre der sozialen Kinematographie. Einige Filme aus diesem Almanach wurden auf internationalen Filmfestivals ausgezeichnet.
Das Ziel dieses Projektes beschreiben die Autoren wie folgt:
"The project, "Goodbye, Ukraine!" is intended to call things by their name —why considerable amount of active Ukrainians, instead of building private and social live in their own country, under their own country's protection, which centuries-anticipated independency finally appeared 20 years ago, chose the way of emigration?  What pushes thousands and thousands of our people to make such a desperate move: inadequacy of states' cultural and economic policy? underdevelopment of civil society? legislative nihilism of governmental institutions? impossibility of self-realization? tiredness from total corruption? uncertainty about the future? and finally, maybe it's deep-seeded lack of will to live free and independent in own county? or some other reasons?.." (Quelle: http://goodbye.com.ua/goal/?lang=eng).
Nach der Filmvorführung findet eine Diskussion mit dem Regisseuren eines Filmes sowie Produzenten des gesamten Projekten, Volodymyr Tykhyy auf Ukrainisch und Deutsch mit Übersetzung, statt.
Wir sind auf diesen interessanten Abend sehr gespannt und freuen uns auf die Diskussion mit Euch/Ihnen! Bitte leiten Sie diese Einladung gern an Interessierte weiter.
Beste Grüße
Oleksandra Bienert
Ukrainischer Kinoklub Berlin
ukkb.wordpress.com